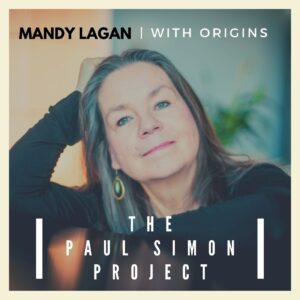 This is the 3rd release from Mandy Lagan with Origins.
Once again, this extraordinary ensemble has been developing its unique and exciting arrangements of songs by an iconic singer/songwriter, this time focusing on the works of Paul Simon. The musicianship and artistry is brilliant and the arrangements bring a fresh perspective to these timeless classics. The band features some of Canada's finest award winning jazz musicians.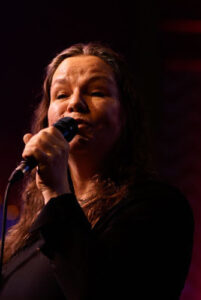 Mandy Lagan has been a singer/band leader since 1989. She has consistently pursued her desire to present songs creatively, uniquely and intelligently with the intention of conveying to her listeners the heart felt message that lives within. She has recorded four CDs since 2002. The songs span a wide range of material, from jazz standards, to original compositions to songs of Joni Mitchell. She was awarded funding for her "Verses" project from the Canada Council for the Arts and the Ontario Arts Council. She has performed in various festivals and venues in Ontario with some of Canada's most outstanding jazz musicians. She has also been teaching music since 1984, at Mohawk College until 1995 and privately to date.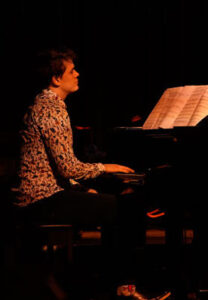 Ewen Farncombe is a young and dedicated musician, who has garnered much attention since his entry into the Toronto jazz scene in 2013. He was named by the National Arts Centre and Phil Nimmons as 'the most outstanding Canadian jazz musician 25 years of age and under', as well as 2013 recipient of the Humber College Community Music School Edith Lantos Musicianship Award. In 2014 he was awarded the Hnatyshyn Foundation Oscar Peterson award. In 2015 Downbeat magazine awarded Ewen with Jazz Instrumental Soloist of the year. Ewen has been performing in clubs and festivals across Canada including The TD Toronto Jazz Festival, Kensington Market, TD Markham Jazz Festival, Prince Edward County Jazz Festival, Canmore Folk Festival. He has recorded and performed with Irwin Hall, Steven Taetz, Dave Young, Jesse Ryan, Joanna Majoko, Alex Bird, Kalya Ramu, Matt Lagan, Mingjia Chen, Sarah Thawer, Emily Steinwall and Coco Love Alcorn. Ewen is currently developing a band project with Sam Dickinson, involving their interpretations of songs from the American Song Book along with original compositions. He has also been co-writing and co-producing with Kalya Ramu and Alex Bird. Ewen continues to amaze and delight audiences with his skillful and creative playing, consistently pushing the boundaries of jazz music as well as more contemporary genres.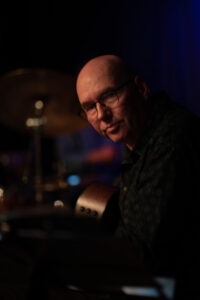 Ted Quinlan is regarded as one of the most versatile guitar players in Canada. His skills are highly in demand as a jazz player, session musician, writer and educator. Ted is the Head of the Guitar Department at Humber College's Music Program in Toronto. As a sideman Ted has performed with Chet Baker, Freddie Hubbard, Jimmy Smith, Joey DeFrancesco, Michael Brecker, Dave Holland, Maria Schneider and Dave Liebman. His debut CD " As If" received a Juno nomination for Contemporary Jazz. He has also released  "Streetscape", 2009, "Around the Bend", 2010 and will soon release his newest recording, "Absolutely Dreaming" Ted has also recorded on Mike Downes' Juno winning CD "Ripple Effect", Doug Riley's "Con Alma", Radioland Records' " Tribute to Wes Montgomery", Phil Dwyer's " Road Stories", Dave Restivo's " Prayer for Humankindness", Ted Warren's " First Time Caller", David Clayton-Thomas' "Combo" and Nancy Walker's "New Heiroglyphics" and " 'Til Now Is Secret". Ted is the recipient of the 1998 Jazz Report Award for Guitarist of the Year.
Andrew Downing is a Toronto based double bass player, cellist, composer and bandleader. He plays primarily in the creative jazz scene in Canada, but also performs classical chamber music, improvised music, folk and roots music, and world music. His projects include MELODEON, a 7-piece chamber ensemble that performs live music to silent films and ANAHTAR, a Turkish-Canadian project inspired by his yearly visits to İstanbul, Turkey and OTTERVILLE, a quiet jazz ensemble. He has composed music for The Vancouver Bach Choir, the Prince George Symphony Orchestra and Orchestra London, and he has arranged music for The Gryphon Trio, the Art of Time Ensemble and Patricia O'Callaghan. He has won two Juno awards for work with his group The Great Uncles of the Revolution and Zubot and Dawson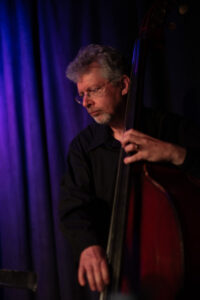 Jim Vivian has been at the forefront of music making in Canada for nearly 30 years, and has performed and/or recorded with most of the well known jazz artists working in the country today. Jim has long-standing associations with many musicians in Toronto and across the country such as Mike Murley, Jeff Johnston, Don Thompson, Brian Dickinson, and John MacLeod, to name a few. He appears on over 100 recordings, 29 of which have been nominated for Juno awards in as many years. He has also performed and recorded with many internationally esteemed artists such as John Abercrombie, Jerry Bergonzi, Mick Goodrick, David Leibman,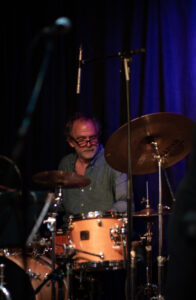 Blair Mackay has been performing and recording on percussion and drumset in a variety of contemporary, instrumental contexts since 1976. He has performed and recorded with Arraymusic ensemble, Serena Ryder and toured with April Wine. Blair toured and recorded with the Dangerous Kitchen Ensemble, performing the music of Frank Zappa in Europe, United States and Canada and has been a frequent performer with The Toronto Symphony Orchestra (TSO) and the Canadian Opera Company.  As well, Blair was the principal percussionist with the Esprit Orchestra. Blair has been artistic director of the Evergreen Club Contemporary Gamelan since 1992. Under Blair's direction, Evergreen Club has produced 10 critically acclaimed CDs. He recently received a Hall of Fame Juno award, and in 2009 Blair was inducted into the Canadian Music Hall of Fame. In 2007 Blair, with his wife Lynda Clouette, founded the Hudson Music Festival (HMF)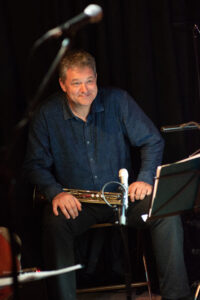 Kevin Turcotte has been playing trumpet on the Canadian music scene for over two decades. He is a busy recording artist who has played on over 175 albums from many different genres. His warm sound and melodic tones have graced recordings by folk Legend Bruce Cockburn, opera star Measha Bruegergossman, jazz icon Rob McConnell's Boss Brass, Michael Occhipinti's Sicilian Project, Rich Brown's Abeng. He has played on over 20 Juno nominated albums, winning Junos with Occhipinti's NOJO, Andrew Downing's Great Uncles of the Revolution and banjo player Jayme Stone. Kevin has been featured in many performances alongside players like Dave Holland, Brian Blade, Sam Rivers, Branford Marsalis and Joe Lovano. He has been named Trumpeter of the year on 12 different occasions by the Canadian jazz magazine The Jazz Report. This past fall Kevin recorded all the trumpet parts for the feature film called Born To Be Blue based on the life of Chet Baker starring American actor Ethan Hawke. Kevin also teaches in the music department of York University.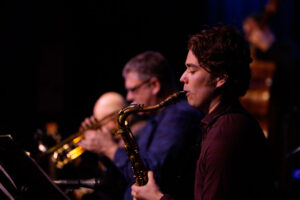 Matt Lagan Saxophonist, composer and bandleader, Matt Lagan is one of the most up-and-coming saxophonists in Canada. Between 2018 – 2020 he has toured twelve countries in five continents with the iconic Shuffle Demons and is featured on their 2020 release Crazy Time. In 2016 he was the winner of the Hnatyshyn Foundation Oscar Peterson Award for Jazz Performance, a prestigious award given to one student each year from across Canada. Also in 2016 he was awarded the Gordon and Anne Wragg Scholarship and was the first recipient of the Dave McMurdo Scholarship at the Kincardine Music Festival. In 2020 Matt was recognised as an Emerging Jazz Artist by the Toronto Art's Council. He has performed in festivals and clubs all around the world and has recorded and performed with his own band, as well as his collaboration with James Fernando. Matt has recorded and performed with Larnell Lewis, Mike Downes, Ben Monder, Dick Oats, Peter Bernstein, Seamus Blake, Kelly Jefferson, Tom Scott, Lew Tabackin, Ewen Farncombe, Pat LaBarbera, Luis Deniz, Ahmed Mitchell, Mason Victoria's Sonos Capos Jazz Orchestra, the David Richard's band, the Pan American Jazz Orchestra, Kirk MacDonald, and Kieren Overs. Matt continues to develop his music in Berlin, Napoli and Toronto.